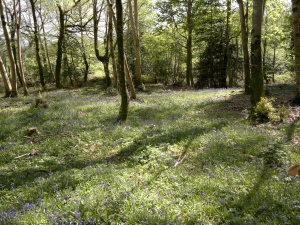 Group certification
Group certification is an alternative to individual forest certification, allowing many smaller forest owners to become certified as a Group and share the financial and administrative costs involved. Given the fragmented nature of private forest ownership in Ireland, Group Certification would be the most cost effective option for private forests and would facilitate better access to timber markets.
The Pilot project focused on the following elements:
General Group Structure - what elements are required to run a group effectively.


Documentation

Forest Management Manual - a set of templates to assist woodland owners / forest managers with record keeping in compliance with forest certification schemes
Group Management Manual - a set of documents outlining management of a forest certification group.



Group Certification Process - a brief outline of the group certification process from joining a group to achieving forest certification.
The following General Group Structure was identified as part of the pilot project:
Group Manager
A group needs to be managed by a qualified Group Manager/Administrator who is responsible for all aspects of the Group membership, such as decision on entry to the group (withdrawal from the group if necessary), implementing group rules, audit checklists, recording and closing of any non-conformities and identifying training needs.
The Group Manager communicates with Group members, Group Auditors and Certification Body, as required.
Group Auditors
The external Group Auditors are responsible for Confirming group Member audits, performing audits in compliance with the current certification standard, reporting of audit findings to Group Manager, review of any non-conformities and proposal for closure and Trademark approval.
Group Auditors communicate with Group Manager, Group Members and Certification Body, as required.
Group Member
Group members are responsible for all aspects of management of their forest, which includes management planning, monitoring, harvesting, quality control, marketing, timber sales and all documentation and actions necessary to ensure on-going compliance with the standards referred to in the Group Rules.
Directors of the Group scheme
The Directors of the Group scheme legal entity are responsible for submission of accounts and payment of due fees, etc for the legal entity.
Two extensive sets of manuals have been produced as part of this pilot project:
Both manuals consist of a range of documents and templates designed to aid in the compliance with forest certification.


Disclaimer: All templates and documents developed for this project were designed for use with the Irish certification standards valid at the time of the project. The templates featured in the above manuals may require updating to ensure compliance with changes that came into effect after this project was completed. No liability will be accepted by DAFM or the project partners for the supply or use of these templates and documents. Forest owners are advised to get independent advice in relation to forest certification.
Outline of the general Group Certification Process (as identified and employed as part of the Pilot Project Initiative)
Step 1: Enquiry from Applicant
Group Manager will issue Application documents (Group Rules and Group Member Application & Consent Form)
Step 2: Receipt completed Application
Group Manager receives completed application and may request additional information from Applicant before entry to the Group can be accepted.
Application is processed and accepted or otherwise
Step 3: Request for FMP & location map, Invoice for Yr 1 raised
Group Manager will request completion of Stakeholder List by Applicant member and will request copy of long term Forest Management Plan (FMP), Forest Inventory & Work Plan and location map. Group Manager will supply Site Notice to Applicant member and will raise Invoice for Yr1 Initial Audit fee.
Step 4: Receipt of Audit Fee, FMP & location map
Payment for Yr1 Initial audit fee received and stakeholder list, FMP and location map received [additional stakeholder details may be requested by the Group Manager].
Group Manager will prepare Forest Data Record in readiness for Initial audit.
Step 5: Stakeholder Consultation
Commencement of stakeholder consultation period. Applicant member will be notified of commencement date of stakeholder consultation.
Group Manager will require confirmation of display of Site Notice at key woodland access point(s) [photo of site notice in place].
Step 6: Audit
Yr1 Initial audit carried out against endorsed Ireland standard [after stakeholder consultation period]. This will include review of 20 Year FMP, 5 Year work programme, and associated management records, Review of Forest Data Record, Review of stakeholder responses [follow up/feedback/meetings - as required]
Presentation of initial findings on site [additional information may be requested]. Audit report will generally be supplied within a defined period of time.
Step 7: Confirmation of Group Entry
The Group Manager will review Final audit report and Group membership registration will be confirmed when any identified issues have been addressed.
The Applicant member will receive Confirmation of Membership after successful registration.
As of 17th April 2018, there are two Certification Groups in Ireland
- The North East Forestry Certification Club
See: Certificate entry for NEFCC
Website: northeastforestrygroup.ie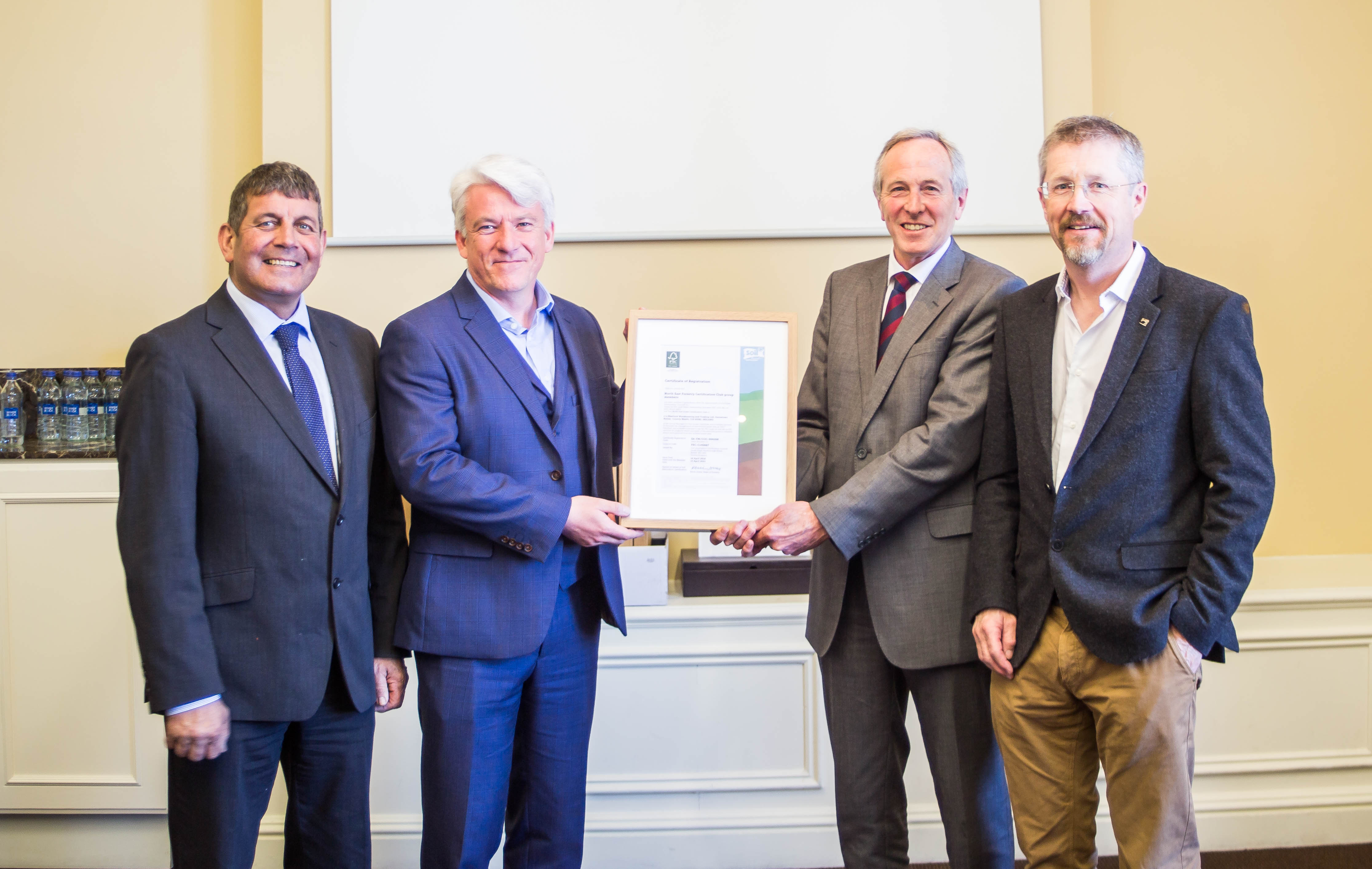 Presentation of Group Certificate to North East Forestry Certification Club by Andy Grundy of Soil Association Certification in the presence of Minister of State for Forestry, Andrew Doyle, TD on 30th April 2018 in the Royal Marine Hotel, Dun Laoghaire, Co. Dublin
- The Forestry Co-operative Society
See: Certificate entry for FOCS
Website: focs.ie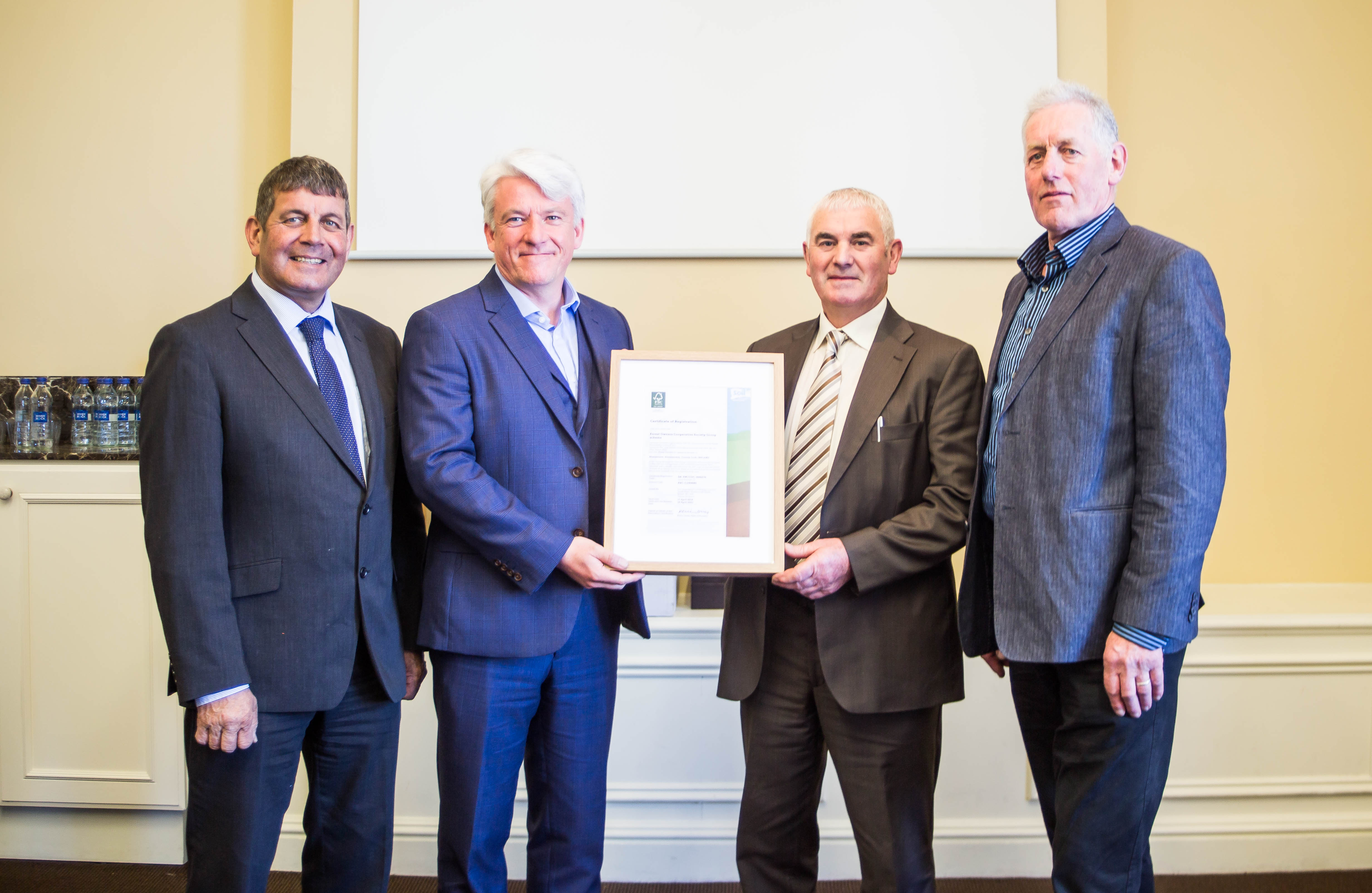 Presentation of Group Certificate to Forest Owners Co-operative Society by Andy Grundy of Soil Association Certification in the presence of Minister of State for Forestry, Andrew Doyle, TD on 30th April 2018 in the Royal Marine Hotel, Dun Laoghaire, Co. Dublin